GOOD HELPER FOR KITCHEN STORAGE
This Drawer Organizer helps organize messy cutlery drawers with a practical and smart storage solution. It lets you store your cutlery at an angle, allowing you to store a full set of cutlery in less than half the space of a conventional tray. This way, you are organizing your utensils while saving more space!  Achieving neat and orderly set-up for your utensils in a breeze!
Includes several compartments for all your cutlery and utensils
Unique design creates more space in your drawer
Cutlery icons for easy identification
Non slip bottom
Durable polypropylene material
Color: Grey
Capacity: 10-12 utensils per section
Weight (lb): 0.84
Dims. (in): 15.6" L x 4.3" W x 2.2" H
Dims. (cm): 39.6 L x 10.9 W x 5.5 H
You're a professional home chef, and your family enjoys the benefits of having such a great cook. But kitchen utensils come with the job, and you have so many filling up your kitchen drawers. Easily organize your knives with the Smart Stack Knife Organizer. Pair this with the Smart Stack Organizer for utensils to ensure your drawers are clean and organized efficiently.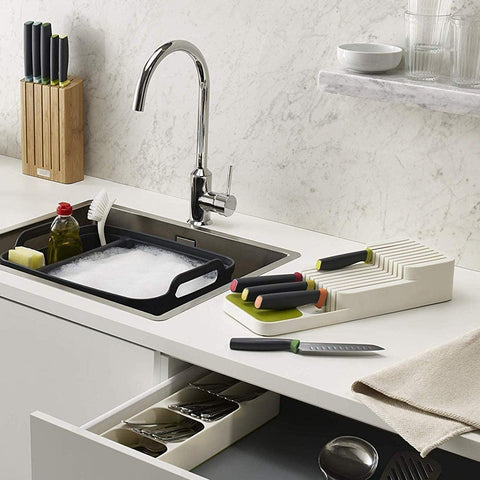 Includes several compartments for knives of various sizes
Unique design creates more space in your drawer
Non slip bottom
Durable polypropylene material
Color: Grey
Capacity: 10-18 knives depending on size
Weight (lb): 0.84
Dims. (in): 15.7" L x 5.5" W x 2.9" H
Dims. (cm): 39.8 L x 13.9 W x 7.3 H